Paradise at the Portofino Tower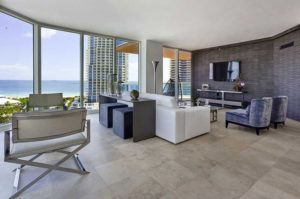 Have you ever dreamed of living in South Beach? If so, you'll obviously want to enjoy the best living experience, and few South Beach condos match the allure of the Portofino Tower. With its soaring height and location in the trendy "South of Fifth" area, the Portofino Tower boasts as much style as it does substance.
If Portofino Tower sounds like a place you'd consider living in, there is a fantastic three bedroom, two and a half bathroom unit for sale in the condominium. Unit #1505 boasts just over 2,300 square feet of living area and the views will take your breath away. The brilliant Miami skyline, the majesty of the Atlantic Ocean, beautiful Biscayne Bay, the massive cruise ships, you'll be able to enjoy all of these views from the comfort and privacy of your Portofino Tower residence. Kick back in your living area with a scenic backdrop courtesy of the floor to ceiling windows, spend some time at the fitness center or the two pools, the Portofino Tower is appealingly all-inclusive.
Portofino Tower is practically seconds away from the beach, Ocean Drive, and South Beach's numerous hotspots. In fact, you can walk to all of these places and not have to worry about driving.
This update is presented by Miami Beach real estate team at Blackstone International Realty, specializing in the Portofino Tower.  If you are interested in Miami Beach condos such as the Portofino Tower South Beach condos for sale, call Continuum expert Tim at 305-588-2451 for information on sales and rentals.